Organic Certification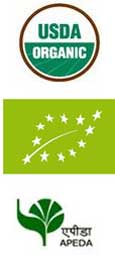 Organic certification is a certification process for producers of organic food and other
organic agricultural products
. In general, any business directly involved in food production can be certified, including seed suppliers, farmers, food processors, retailers and restaurants.
Organic certification exists to provide consumers with the assurance that claims made by sellers of organic product have substance in fact. "Certified Organic" verifies that products were produced and/or processed under conditions required by National Standards and/or international standards for Organic Production.
In India, the operator must get his organic production certified as per National Standards for Organic Production, (NSOP) and the standards of the country to which it is exported.The NSOP has been formulated by Ministry of Commerce, Govt. of India for National Program for Organic Production (NPOP) Inspection is generally done once in a year. Additional inspections are conducted wherever found necessary. The organic certificate remains valid for one year or until the next certification decision is made.
The Certification agency is prohibited from giving advice, or providing consultancy services to applicants or certified operations for the purpose of overcoming barriers to certification. The certification agents must explain the regulations but they cannot tell operators how to correct non-compliance. Haritha Organic Farms is not a certification agency hence we will provide consultancy service for your certification.
Download the Organic standards/regulations from
Steps to Organic Certification
The steps to becoming a certified organic producer are very basic. The five that follow are typical, though variations might apply in different circumstances.
Identify a suitable certifier: Based on the accreditation, ability, cost and market recognition of the certifier logo Haritha Organic Farms suggest the suitable certifier for your farm.
Submit an application: Request for a copy of certifiers organic standards along and application form. Fill the form with adequate information including details about soil fertility planning, seeds and seedlings, weed and pest management practices (including the materials one plans to use), and storage and handling routines, farm maps, crop and input histories for all fields. The farm plan questionnaire will also elicit information on the producer's plans to monitor the farm operation to insure compliance.
Completeness Review: The certifier reviews the organic farm plan application to be certain that it is complete and that the operation appears able to comply with NOP organic standards. If additional information is required, the producer will be asked to submit it.
On-farm inspection: The inspector looks for all indications that the producer is operating according to their organic plan and is in compliance with organic standards. The inspector reviews all written records documenting management practices, seed sources, inputs used, compost production, conventional production done on the farm, and records of harvest, storage, transportation, and sales. An inspection affidavit is completed during the inspection and signed by the producer and the inspector. The inspector reviews with the producer all identified non-compliance issues at the end of the inspection. Finally, the inspector submits a detailed report to the certifier on all findings. (Note that inspectors only record observations; they do not make decisions about certification.)
An organic farmer under certification must keep systematic records of all farm activities (sowing, intercultural operations, fertilization, plant protection, harvest, purchase, sales and processing) along with the supporting vouchers / bills.
Final review: An individual or certification committee reviews the organic farm plan application and inspection report with expertise in organic farming and certification standards. After the review they decide to approve or denial of certification.